WRIGHT'S GYM FIRST MEMBER SPOTLIGHT: JAKE WIDMER
At Wright's Gym, we truly value the members who make up our community. We love to interact with them, get to know their stories and support everyone in their fitness and martial arts pursuits. To show our members how thankful we are for their commitments to us, we would like to share a spotlight on them to show how their dedication and passion makes up the foundation of our gym. In what we would like to introduce as Wright's Gym Member Spotlight, our first member recognized is Jake Widmer. We have come to know Jake as a profoundly motivated young man whose passions have led to the publishing of his own novel and outstanding growth in his mixed martial arts journey. We want to share his story with our community to spotlight him and how much we appreciate his commitment to us here at Wright's Gym.
Jake has resided in the Pittsburgh area his entire life, however his martial arts and fitness endeavors did not begin with us at Wright's Gym. At an early age in second grade, Jake began training in the martial art of Karate. The particular style of karate is known as Hinode-Ryu Karate. Developing a passion, he continued this training for 10 years. He participated in point fighting tournaments and ultimately earned his black belt. Having accomplished so much in karate, Jake's interest and curiosity in other martials arts, particularly our Krav Maga Program, led to the beginning of his journey at Wright's Gym.
After Jake discovered Krav Maga, a self-defense system originally adapted for the Israeli Defense Forces, he began searching for gyms in the Pittsburgh area to begin training. His search was not met with success until he learned about the training program at Wright's Gym. He took interest in the legitimacy of the program here, describing it as actually teaching Krav Maga and self-defense. He began to flourish in our classes, getting to know our instructors and becoming a proud member of our community. As time progressed, Jake began training in Brazilian Jiu Jitsu and taking personal lessons with our boxing instructor Francis Braza. He now trains as a mixed martial artist and it has been amazing to see him improve.
Owner Dave Wright, after meeting Jake, personally recommended him as the first candidate to be spotlighted. Seeing his dedication to improving as a mixed martial artist as well as the accomplishment of publishing his first novel, he wanted to give him a spotlight for the hard work he's been putting in to achieve his goals.
Jake's interest in writing also began at a young age and really developed during a creative writing class in high school. This led to him becoming an employee at a Barnes and Noble overseeing the sections of his favorite genres, horror and thriller. With this passion in writing, he published his first novel on February 23, 2023, titled Homecoming: The First Chris Folly Thriller. The story takes place in Pittsburgh, following a 23-year-old army veteran named Chris Folly. After returning home from three years of active duty, Chris gets involved in a criminal drug ring run by corrupt politicians and police in the city. How does Chris handle this dangerous entanglement that he gets himself involved in? You can buy a copy of his novel on Amazon, which will be linked below, to find out in this engaging action thriller.
One incredible thing to note is some of Jake's passion for mixed martial arts inspired a major element of the novel. A staple item used in this story is a tomahawk developed by a Pennsylvania native for martial arts and self-defense named the Empress Tomahawk. Jake has recently been training in the use of this tomahawk in self-defense and wanted to heavily incorporate its use within the novel. It is a great example of how mixed martial arts has ways of influencing different areas of life. In Jake's case, it's had an influence in the creation of his first novel.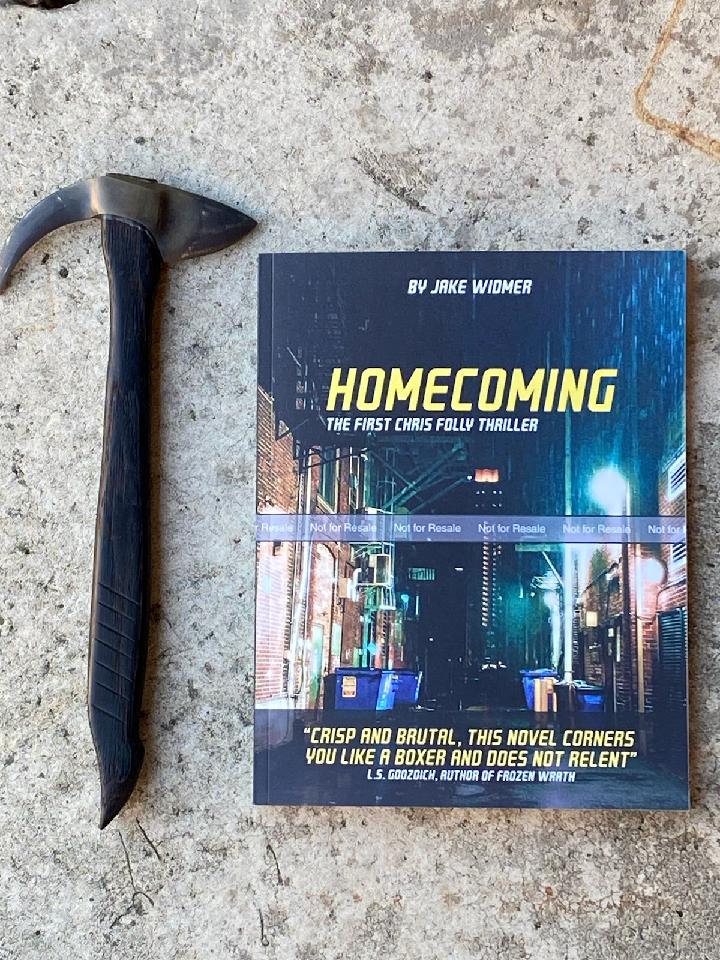 (Above is an Empress Tomahawk and a copy of Jake's novel Homecoming: The First Chris Folly Thriller)
After asking Jake how he would recommend someone get started training at Wright's Gym, he stated simply that the best way is to come to the gym and not be afraid to walk in. Jake described the instructors as treating him like family and everyone having been incredibly nice. Whether it's staff, our martial arts instructors or other gym members, everyone welcomed him with open arms. That is our goal here at Wright's Gym, to create an environment where people can go to feel motivated, supported in their goals and where real community is created.
During his Member Spotlight interview when asked how someone who's interested in starting martial arts training at Wright's Gym might get started, Jake answered by saying, "Although it may be intimidating at first, once you get down the steps and walk in you realize that you are fine."
"Speak with the staff, they will help you," Jake stated, "All the instructors are the nicest people in the world. The people you train with here become family." Ultimately, Jake has become an involved member and is greatly appreciated for his contributions to our community.
We want to thank Jake for the hard work and dedication he's been putting in at our gym. Jake strives to improve himself inside and outside the gym, and this is why we want to highlight him as the first Wright's Gym Member Spotlight. We love to see the improvement of our members in their goals not only in fitness, but in all areas of their life. Go and read Jake's exciting first novel, Homecoming: The First Chris Folly Thriller. Thank you for reading Jake's Member Spotlight and we hope to see you training at Wright's Gym.
Here is a link to purchase Jake's Novel Homecoming: The First Chris Folly Thriller on Amazon: Homecoming: The First Chris Folly Thriller (Chris Folly Series Book 1) - Kindle edition by Widmer, Jake. Literature & Fiction Kindle eBooks @ Amazon.com.
If you'd like to give follow Jake Widmer on social media, his Instagram handle is @jacobwidmer